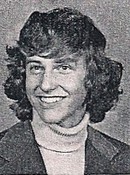 From The Washington Post April 18, 1985
OBITUARIES
Film Maker Dee Marlow Boyer Dies at Age 25
By Colman McCarthy
Washington Post Staff Writer

Dee Marlow Boyer, 25, a writer and film maker whose most recent work was about a group of Americans who traveled to the Soviet Union to promote better relations between the two peoples, died of cancer April 13 at his home in Bethesda.
Mr. Boyer had produced audio-visual shows since 1977. His most recent work was called "People to People." It is a 30-minute photographic and musical production – plus commentary – that tells of the experiences of 31 Seattle citizens who traveled on a nongovernmental good will mission to four cities in the Soviet Union.
As the photographer for the trip, Mr. Boyer caught on film the bonds of friendship between American and Soviet citizens. In March, "People to People" was shown at the National Geographic Society, where his father is a writer on the National Geographic Magazine, and at a peace studies class at American University.
At AU, Mr. Boyer used the occasion to talk to the 100 students who attended the presentation about this personal efforts to seek inner peace in what he knew were the last days of his life.
Mr. Boyer told the students stories that were both poignant and wry. He described participating in "a truly guinea pig-like way in a 'phase one study' of a new drug that has only recently introduced to human populations.
"It has never been administered to patients with Ewing's sarcoma (the cancer that affected him). The tests they are performing have more to do with documenting the various levels of toxicity and the side effects that can be caused by the drug than they are with the actual treatment of the disease."
"As [one doctor] put it, 'There are significant benefits to be gained by your participating in the study – it's just that the benefits will not necessarily accrue to you personally'. Fair enough, it beats sitting on my ass and watching the grass grow."
---
Marlow wrote the following letter-to-the-editor sometime in early 1985. (Presumably, this was published in The Washington Post or The Washington Times).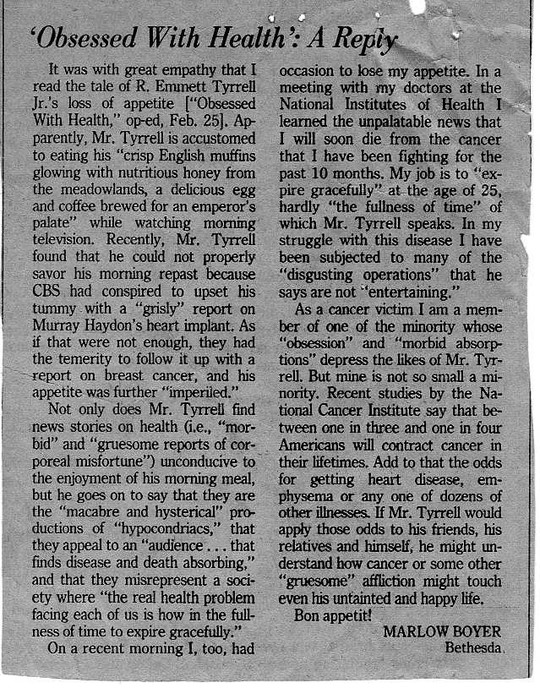 ~ News articles courtesy of Betsy Hahn
---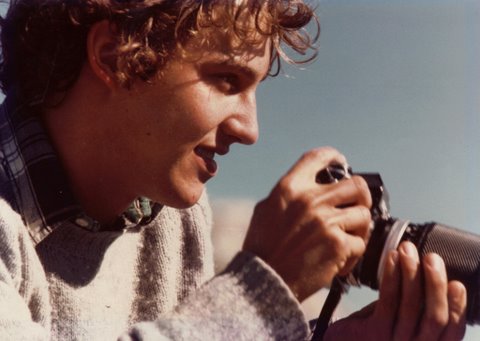 Marlow in an undated photo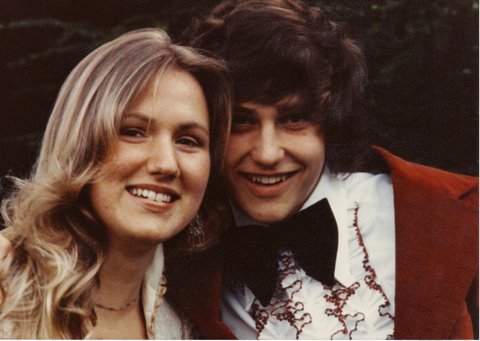 Marlow in an undated photo
~ Photos courtesy of DeeAnne Boyer McClenahan (Marlow's sister) via Betsy Hahn